On December 14th this site , at the end of the year, various events and conferences are overwhelming. Are you still worrying about preparing for party dresses? Usually, the clothes you wear are not suitable for these important occasions. Inevitably there is some waste. At this time, the easy-to-wear, never-to-be-missed little black Dress is undoubtedly the best choice. The luxurious extravagance of Emilio Pucci black gold inlay skirt, the romantic beauty of Valentino lace skirt, the simple atmosphere of Victoria Beckham tube top dress, the lovely sweetness of Gucci puff sleeves, the wildness of Versace leather skirt, Alexander Wang's asymmetrical skirt Personality avant-garde, with different styles, different cutting changes, corresponding to various occasions can also be handy.
Of course, in order to be the focus of the party, eye-catching dinner bag is to work hard, diamonds, sequins, lace, feathers, so that your little black dress is different. Xiao Bian carefully selected the classic little black dress + the most beautiful dinner bag for you, offering different styles of party look collocation, will make you at the end of the year party effortlessly, kill everybody's eye!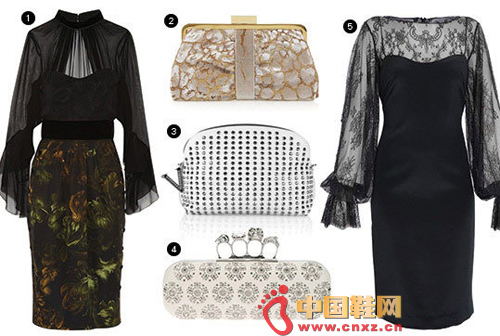 Puff Sleeve: A little cute in romance
The puff sleeves evolved from the court costumes are very feminine in design, and at the same time can block the fat on the arm. Gucci dress (Figure 1, 2527 pounds, equivalent to 25,383 yuan), the use of silk, printing and other elements perfectly illustrates the sexy and feminine women. The Notte By Marchesa lace dress (Figure 5, $ 887, equivalent to RMB 13457), the effect is equally stunning. With the YSL jacquard leopard handbag (Figure 2, £1120, equivalent to RMB 11,250), the sense of gorgeousness rose dramatically. Or white Versace handbag (Figure 3, 1560 pounds, equivalent to 15,669 yuan) and Alexander McQueen classic handbag (Figure 4, 2484 US dollars, equivalent to 15,486 yuan), somewhat more capable and tough.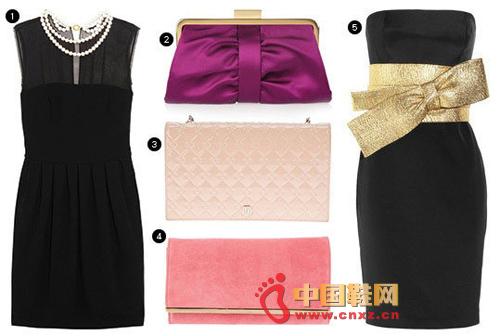 Cute style: The little princess in party
If it is a new woman who has just entered the workforce, the lovely style is undoubtedly a good choice to highlight the girl's feelings. The pearl design in the collar of Moschino Cheap and Chic (Figure 1, £469, equivalent to RMB 4710) continues the fashion trend that recently emphasized the design of the collar. Or Notte By Marchesa this dress (Figure 5, £ 853, equivalent to 8,568 yuan), the exaggerated gold decoration waist, cute wind filling. Of course, the princess's favorite is pink. If you don't want to wear too much pink, it's a good choice to add a touch of pink to your handbag. This can be paired with the YSL satin clutch (£ 2,925 pounds, equivalent to RMB 9,291), adding a touch of maturity to the cute style. Fendi patent leather handbag (Figure 3, 890 US dollars, equivalent to 5555 yuan) and Emilio Pucci pink suede handbag (Figure 4, 1037 pounds, equivalent to 10,416 yuan) to play a small woman's mood do not have a flavor.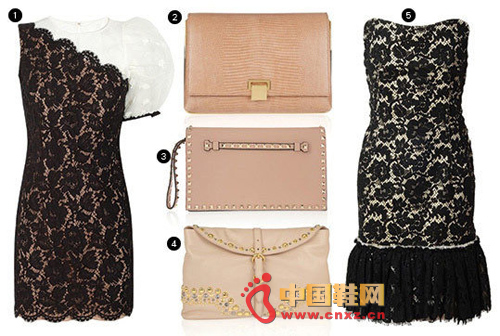 Lace: Aestheticism
Lace has not been noticed by mainstream fashion for a long time. Since the extensive use of lace on the 2011 Valentino show floor, romantic aesthetic feminism has become common practice. In the party you can choose Valentino's unique lace dress design (Figure 1, £ 3,393, equivalent to 34,081 yuan), the unique oblique shoulder design balances feminism and modernity. Or Lanvin's silk bra dress (figure 5, $ 6291, equivalent to RMB 39,221), hem, zipper, back unique design had to be admired by the designer's creativity, wear it will definitely become a party A unique landscape. You can choose The Row pink lizard skin handbag (Figure 2, 4627 pounds, equivalent to 46,477 yuan) to match, the overall shape aesthetic and harmonious. Or Valentino this hot rivet handbag (Figure 3, 1070 pounds, equivalent to 10,747 yuan), or Miu Miu inlaid handbag (Figure 4, £ 1,305, equivalent to RMB 13,108).
· "Bai Xia Girl" likes to wear on the upper foot
· Rejecting ugly rain boots The most IN patent leather shoes are your rain
·Admiralty body waterproof shoes make travel more pleasant
·The smart men wear comfortable shoes with comfortable feet to fly
·New Balance leads the tidal wave father to record
·[Shoes · Will] 23-year-old signature shoe is very show?
· Natural Kings, exclusive 70 year old Danish Humvee shoes
· Cats and shoes fire? Every girl should have a pair of Hepburn
·The white dress is not "small white"
·Pleated skirt with what shoes with different wipe out
Dress
dress,short sleeve T-shirt,Printed short sleeve T-shirt
Shaanxi Jiyun Textile Technology Co., Ltd , https://www.sxjytextile.com