Autumn season, "Hwan" new season, are you ready? If you are still crazy this temperature is still cold, still out of worry with the street, then come to MOFAN Dinghai it!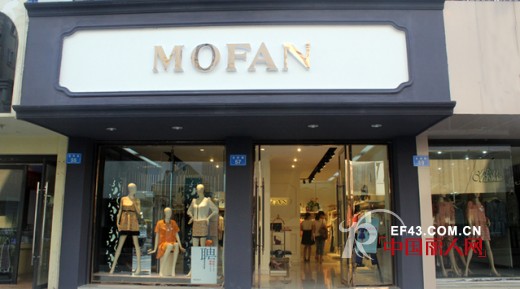 September 6, MOFAN Dinghai store brand upgrades, opening of new stores, benefits the whole city! Old customers with the VIP card into the store to receive free gifts (gifts while stocks last), full spending more surprises Gifts + cash vouchers, In addition, who are concerned about MOFAN WeChat, and the article "Golden Autumn" Huan "new Seasons MOFAN Zhoushan shop benefits the whole city "information is forwarded to more than 3 friends, visit Dinghai store you can enjoy direct relief privileges (to show mobile phones to take effect).
It is reported that Dinghai District House Road 55-57 MOFAN shop using simple European decoration, display more rhythmic, the space show a more flu, each soft props convey MOFAN young, relaxed shopping atmosphere, before opening , Old and new customers have highly anticipated, and portrait listed autumn, but also to meet the multi-faceted urban women's dress appeal, waiting for what? Quickly to MOFAN Dinghai shop it, there is always a suitable for you ... ... please come!
Children Kn95 Face Masks
Composite nanomaterials, PM2.5 purification efficiency up to 95%.
Mask filter is soft and skin-friendly, ensuring a comfortable and healthy breathing experience.

Features and Benefits:
Stretchy
Elastic strap makes it easy and comfortable to wear, won't crack and won't hurt your ears.

Application
Suitable for 4-10 years old children. This mouth mask is perfect for running, cycling, hiking or other outdoor activities, it's also suitable for daily use.

Breathable
making you breathe freely, really comfortable. protects you from dust, wind, pollution, smoke, etc.

Comfortable
The material chosen is high quality, which is soft and skin-friendly to wear. The masks protect you from dust, wind, pollution, smoke, etc.

What does this respirator protect against?
• Filters ≥95%

• Dust

• Water-based mist

• Fumes

• Concentration of contaminants up to 20 times WEL

How long does a disposable respirator last?
These respirators generally will last about 8 hours or when it becomes too difficult to breathe and are disposable when they no longer offer full protection.

What is the difference between KN95, N95 and FFP2 protection?
Different countries use different codes and numbers to name their Standard of the respiratory face mask. But their

Positive effection are all very similar.

N95 (United States NIOSH-42CFR84)

FFP2 (Europe EN 149-2001)

KN95 (China GB2626-2006)

Children Kn95 Face Masks
Children Kn95 Face Masks,Children Surgical Masks,Kn95 Folding Face Mask,Nonwoven Face Mask
Suzhou Ruihan Automation Technology Co. LTD , https://www.ruihansz.com